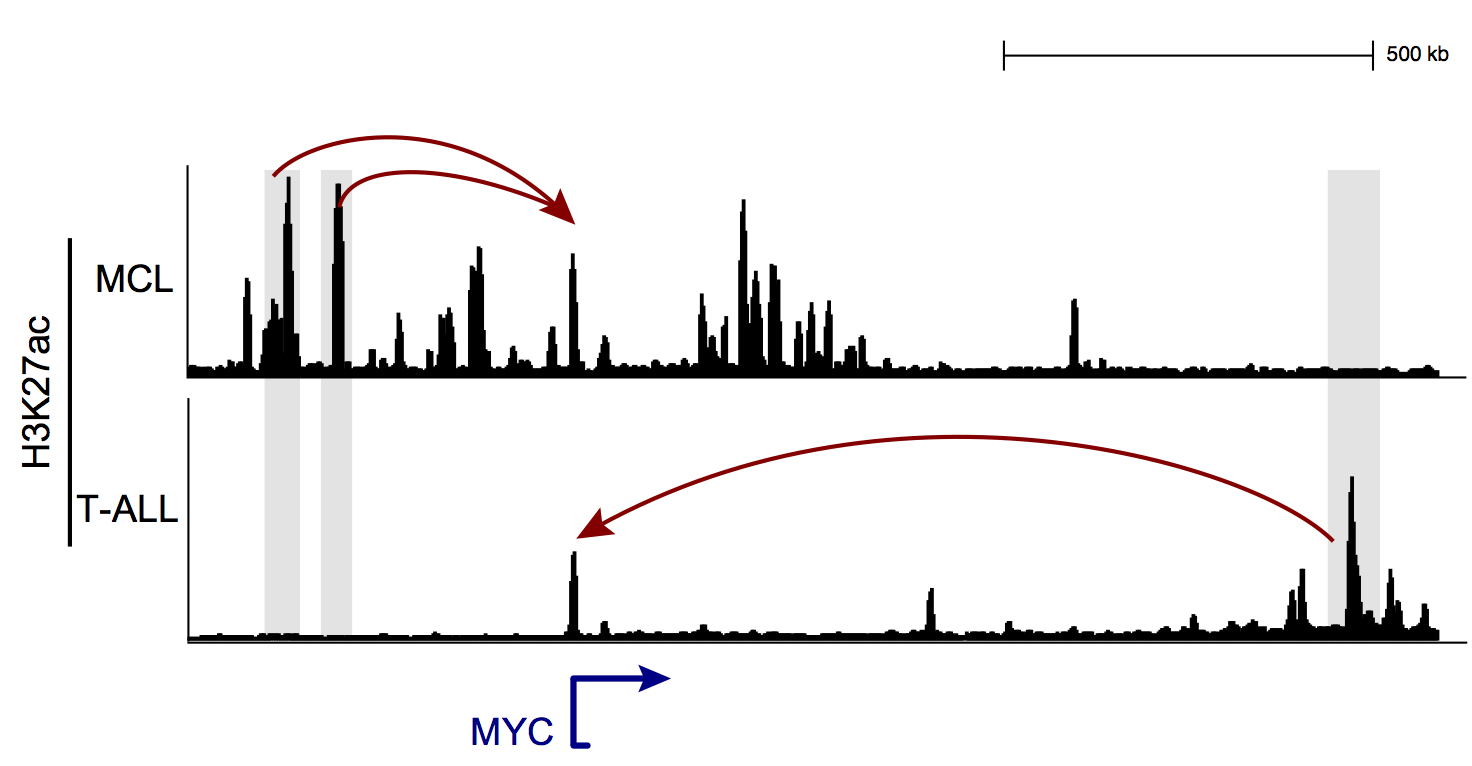 We are a computational biology lab with focus on cancer epigenomics. Our research spans the areas of cancer biology, computational biology and machine learning. The overarching goal of our lab is to explore how oncogenic cell signaling pathways dysregulate enhancers' landscape of a tumor and understand their function in cancer.
The lab is specifically interested in lymphoma and leukemia which are the cancers of hematopoietic system. In addition to genetic alterations, abnormalities at epigenetic levels may give rise to these malignancies. We use genomics to identify the genetic variations in these tumor types and further elucidate how these genetic events alter a tumor's epigenome using population and single-cell epigenomics techniques.
We are always looking for passionate individuals who are interested in investigating cancer epigenomics using combination of experimental and computational approaches.
Rotation students and postodcs could use wet and/or dry approaches to investigate the impact of epigenetics heterogeneity in tumor biology. Read about our research and checkout here if you are interested in joining our team or doing rotation in the lab.
---
NEWS:
Thanks to Jelena Petrovic and Yeqiao Zhou, our first map of breast cancer genome topology is ready!

Our paper titled ''Functional proteogenomics reveals biomarkers and therapeutic targets in lymphomas'' is now online at PNAS.

Penn Center for Precision Medicine (PCPM) funded our proposal to study precision clinical decision making in targeted therapy of AML.

Thomas Campbell started his rotaion at the first week of May 2017.

Ben Kahn and Rohan Alur joined the lab for their independent studies in February 2017. Welcome Ben and Rohan.

The lab received the Cooper Scholar Fund from the Abramson Cancer Center's.

Our Penn Epigenetics Pilot Grant was renewed till 2018. Thanks The PENN Epigenetics Institute!

Institute for Translational Medicine and Therapeutics (ITMAT) supported our proposal for single cell epigenomics study of Leukemia.

After more than a year researching in the lab, Yeqiao Zhao was admitted to the GGR PhD program. Congratulations Yeqiao!

In collaboration with Dr. Vahedi's lab, we stablished a weekly computational journal club. It is an open venue for everything genomics. Join us on Fridays at 5 pm in the BRB305 to discuss computational biology and have a beer or two!).